Fr Tom Maguire
Fr Tom Maguire was, perhaps, the most famous and most noteworthy of the many parish priests of Inishmagrath.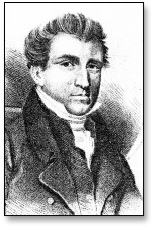 Fr Tom Maguire was born in the parish of Kinawley, Co Fermanagh. It seems that his family were descendants of the Maguires, the chieftains of Fermanagh. Tom received his early education at a classical school near Ballyconnell before going to study in Maynooth College. He was ordained in 1816 in Templeport, where his uncle, Fr Patrick Maguire was parish priest. He was appointed curate in the same parish and in 1818 was appointed parish priest of Drumreilly Lower. In September 1825 he was appointed parish priest of Inishmagrath.
In the 1820's the Catholic Church in Kilmore was totally unprepared for the emerging New Reformation, a movement of evangelical Protestants who were making a strong bid to win over poverty stricken Catholics to Protestantism. These evangelicals were bitterly anti-Catholic and above all, fiercely hostile to priests. The local priests were, in general, ill-equipped to provide leadership to the laity who had to confront these evangelicals. Fr Tom Maguire, however, challenged one of the leading evangelicals in the country, Rev Mr Richard Pope, to a debate.
The debate took place in the Lecture Room of the Dublin Institute in Sackville St (now O'Connell St ), starting on Thursday, 19th April 1827. It attracted media attention and huge crowds. The debate lasted six days and, when it ended, Catholics were in no doubt that Maguire was the clear winner. Daniel O'Connell, who co-chaired the debate, commented "that this simple unpretending priest from the bogs of Leitrim has given a death-blow to the doctrines of the Established Church." The people of Dublin, by way of a spontaneous tribute, unyoked the horses from Fr Tom's coach and pulled it along the streets of Dublin to his lodgings. Fr Tom was now a national hero.

But Fr Tom's difficulties with the evangelicals were far from over. In May 1827 a Protestant inn-keeper in Drumkeeran, took a case against Fr Tom, accusing him of seducing his daughter. This action resulted in heightened tensions between the local Catholic and Protestant communities, with some Protestant businesses being boycotted. The case against Fr Tom was heard in December 1827. Daniel O'Connell defended Fr Tom. The jury returned a verdict in favour of Fr Maguire, awarding him six pence in costs.
In 1828 Daniel O'Connell stood for election to the House of Parliament in Co Clare. If he were to succeed, the laws excluding Catholics from Parliament would have to be repealed. Knowing this, Fr Tom visited Co Clare to exhort the people to support Mr O'Connell. On Sunday 29th June he addressed a meeting in Tulla and during the week he made speeches at the polling booths in Ennis. O'Connell won the election. Within a year the penal Laws were repealed, Catholic Emancipation had been achieved and O'Connell was hailed as the Liberator.
Fr Maguire supported O'Connell's bid to secure the repeal of the Act of Union. On 15th August 1833, he organised a great meeting on Sheena Hill at which he explained the aims of the repeal Movement and exhorted the people to firmly back O'Connell.
Throughout these years Fr Tom was in regular demand as a preacher. The debate with Pope had launched him on a career as a controversialist and popular preacher who was in demand for Lenten sermons in Dublin's major churches, as well as for charity sermons and sermons at the dedication of new churches. He also preached in Britain, in cities such as Liverpool, Glasgow and Bristol. On one occasion, he made use of his oratorical skills to help raise funds for the churches he was building in Inishmagrath. The Freeman's Journal of 15th August 1835, carried a report that "a charity sermon will be preached in the Church of St Teresa , Clarendon St, by Rev T. Maguire, PP of Inishmagrath, to enable him to finish two chapels in that parish." One account of his preaching in in the Church of Adam and Eve (Dublin) reads as follows: "Fr Maguire came from Leitrim and had a large and densely packed audience who listened to him for fully two hours without a break. His style was simple, his accent Irish and his arguments overwhelming."
Fr Tom was transferred to Ballinamore in 1835. On 2nd December 1847 Fr Tom died suddenly near Ballinamore. At first his death was thought to be by natural causes. But when his brother and sister-in-law died within hours of each other it was decided to hold post-mortems on all three bodies. All three stomachs were found to contain considerable amounts of arsenic. They had been poisoned. Two people were tried for Fr Tom's murder but they were acquitted. While it's possible that he may have been poisoned by Orangemen because of his opposition to the New Reformation movement it is also possible that he may have been the victim of the Molly Maguires, whom he had strongly opposed in the Ballinamore area.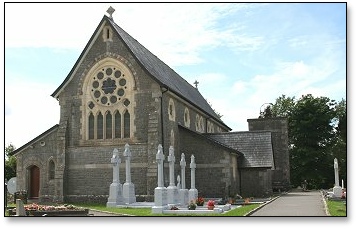 His funeral was supposed to be the largest ever seen in Kilmore. As the funeral procession left Ballinamore the parishioners unyoked the horses from the hearse and pulled it to Kilnavart.
Fr Tom was buried at Kilnavart church, in Templeport.
A monument in memory of Fr Tom can be seen at Kilnavart Church, Templeport, Co Cavan. The monument can be seen to the right of the church in the above photo.
The inscription on the monument, as we can see below, describes Fr Tom as a "renowned preacher and patriot".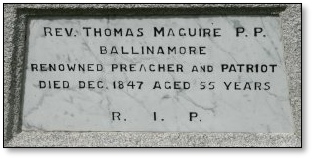 Charles Gavan Duffy described Fr Tom as follows:
"Tall with a benevolent expression of honest good nature on his face, he was a favourite everywhere. A great controversialist, gifted with genuine Irish wit, he was welcomed by all and was the heart and soul of every assembly".
Fr Tom Maguire was undoubtedly one Ireland's greatest preachers, so much so that, in a compendium of sermons called Pulpit Themes, his name appears alongside contributions from men like Cardinals Newman and Manning.