SOME OTHER PRIESTS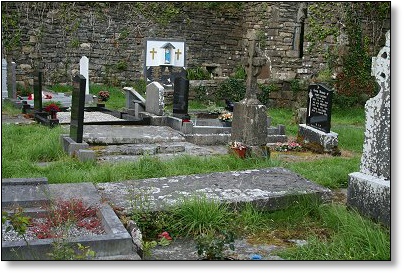 Fr Ambrose Cassidy OFM
(1817? - 1824)

Fr Ambrose was born about 1755 near Blacklion. He was a member of the Franciscan order and was parish priest of Ballinaglera in 1801. He was parish priest in Inishmagrath by 1817 where he was reputed for his charitable work for the poor and the hungry of the parish. He lived in Tarmon, in the "Long White House". It seems that this is probably the old school, near the present church.

Fr Ambrose was buried in Curraghs Cemetery . The flagstone over his grave (see photograph) tells us that he died on 22 November 1824.
Thomas Forde (1835 - 1853)
Fr Thomas Forde, a native of Ballinamore, became parish priest in 1835He resided in the townland of Greyfield, in a house about 50 metres from Greyfield Cross. He died on 14th May 1853 and was buried in Kilbride.
Bryan Keany (1853 - 1866)
A native of Glenfarne. As PP of Ballinaglera he worked hard for the alleviation of distress among his parishioners during the Famine years. In 1854 he was appointed PP of Inishmagrath and immediately commenced work on the building of a church in Newbridge. Work on the church, dedicated to St Colmcille, was not completed until 1864. Fr Keany also bought the land on which the present St Brigid's Church, Drumkeeran, was built at a later date. He died in 1866 and was buried in Aughaloughy Cemetery.
John Magure (Apr 1866 - Nov 1866)
John Maguire was PP of Inishmagrath for only a few months of 1866. It was he who bought the Protestant Minister's house and made it the Parochial House. The current Parochial House stands on this same site.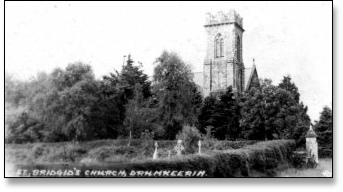 James McPartlan (1866 - 1886)
Born in the townland of Greaghnaslieve, James was appointed PP of his native parish in 1866. He decided to replace the old "Bog Chapel" with a new church, the current St Brigid's Church, in Lugmeen.
Work on the new church started in 1866 and, three years later, the first Mass was said in it in November 1869. Work was not completed however until 1886 when the belfry was added.
Fr James died in that same year and is remains were buried within the church. His burial place is marked by plaque on the wall in the north transept of the church.

In 1873 Fr James presented a chalice to the parish. Today this chalice is used in the celebration of Mass in Tarmon Church. The inscription on the chalice reads: "Presented by the Rev James McPartlan PP 1873"
James Dolan (1886 - 1904)
A native of Glenfarne, Fr James Dolan was one of the first professors on the staff of the newly opened St Patrick's College in Cavan, where he also served as Dean and President. In 1886 was appointed PP of Inishmagrath. He commenced work on the building of a new church in Tarmon. He was transferred to Manorhamilton before this work was completed.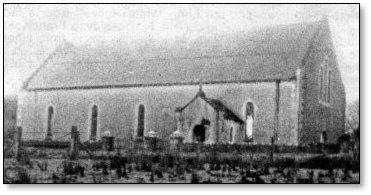 Patrick McMorrow (1904 - 1923)
Patrick was a native of Inishmagrath, being born in Tullymorrow in 1839. Prior to his appointment to Inishmagrath in 1904 he was PP in Killargue, where he built the parochial house.
As PP of Inishmagrath Fr Patrick continued the work on Tarmon Church and it was completed in 1906. He died in 1923.