The Breifne Historical
Society

Cumann Seanchais Bhreifne,
the Breifne Historical Society, deals with the local history of Counties Cavan and North Leitrim.
Visit the web site of
Cumann Seanchais Bhreifne
Prominent Local Families
Examination of the Annals show that for many centuries the Mac Conshnamha (Mac Connava) family were the chieftains of Muintir Chionaith. The Mac Conshnamha name was later translated as Forde
The Annals of the Four Masters record the death of the chief of Muintir Chionaith, Cuchonnacht Mac Consnamha, in 1252. In 1355 there is a record of the death of another member of the family, Conor, who was bishop of Kilmore.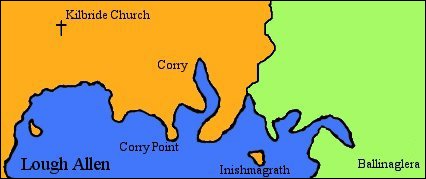 The Annals also inform us that in 1530 the family house on Inis na Conaire, near Drumshanbo, was destroyed by O'Donnell during his invasion of Breifne and, as a result, the family moved its residence to Corry, on the north side of Lough Allen.
In 1630 King Charles I granted a large tract of land in Co Leitrim to Sir Frederick Hamilton. He built his castle in Manorhamilton and in1642 he made repeated raids on the Forde family residence in Corry. The family chief, Garret Forde, was seized, his family were slain and the house was sacked. The survivors of Garret's family continued to live at Corry until Thaddeus Forde, a short time before his death in 1759, moved residence to Drumminachoppel. Thaddeus, the last of the Fordes of Corry, was buried in Kilbride.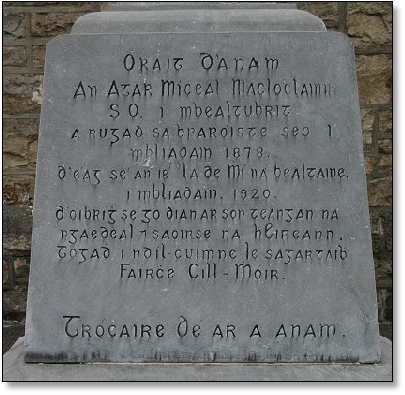 The O'Rourkes were another prominent family in the area. They would have been members of the larger O'Rourke clan who were the chieftains of Breifne. The lineage of the O'Rourke families of Inishmagrath can be traced from Brian Ballach O'Rourke, the last lord of Breifne (died 1562) to 1887.
Fr Michael McLoughlin (1878 – 1920) was a son of Mary O'Rourke. Ordained in 1905, he served in Glangevlin, Ballinaglera, Killasnett, Glenfarne and Belturbet. He was a fluent Irish speaker and worked hard for the promotion of the Irish language and culture. He was buried at St Brigid's Church, Drumkeeran.
Fr Michael McLoughlin's headstone bears tribute in Irish to his work for the promotion of the Irish language.