The Breifne Historical
Society

Cumann Seanchais Bhreifne,
the Breifne Historical Society, deals with the local history of Counties Cavan and North Leitrim.
Visit the web site of
Cumann Seanchais Bhreifne
THE FRENCH 1798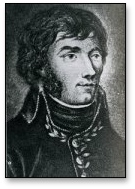 On 22nd August a party of about 1,000 French soldiers under General Humbert landed near Killala, Co Mayo. The local Irish swarmed to join them and, together, they captured Killala. Humbert then march on Castlebar and routed the English defenders of the town. He then decided to try crossing the upper Shannon so as to make his way to Longford. On 4th September he marched his men from Castlebar towards Sligo. About 1,500 insurgents from Mayo and Sligo joined his army.
English forces under General Lake were drawing closer and were involved in continuous skirmishes with Humbert's men. Near Collooney Humbert's men defeated a group of 600 men from the garrison in Sligo. However, he decided against taking Sligo and, instead, he turned towards Dromahair and Drumkeeran. He arrived in Drumkeeran on the evening of 6th September, making camp on the high ground above the village.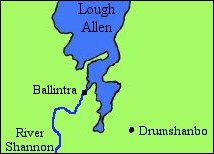 The local people welcomed them and brought them milk, meat and potatoes. A few young men from the area joined Humbert's army. The names of two of them are known, Billy Flynn and Tom Gilheany. While in Drumkeeran Humbert received messages from Lord Cornwallis promising leniency to his French soldiers were he to surrender. Humbert vowed to continue on and a few hours later he and his army left Drumkeeran. Early next morning they crossed the Shannon at Ballintra, near Drumshanbo. His forces were eventually defeated at Ballinamuck, Co Longford. Many of the Irish insurgents who had joined up with Humbert were executed immediately. Others were fortunate enough to make their escape and among them was Tom Gilheany, one of the men who had joined up in Drumkeeran.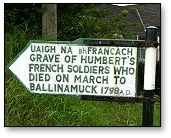 During their brief stopover in Drumkeeran the French soldiers buried the remains of soldiers who had died on the march
The burial ground is in a field adjacent to the modern day St Brigid's National School in Sheena, but its precise location is not known.